A few weeks ago I got to suit up with Riot – for the first time in 20 months.  I've been practicing with the team since the first day of tryouts in April, but I had yet to play in an actual game. And this was a special occasion on many levels: it was the first game of the women's college All-Star tour, it was hosted in Memorial Stadium in the heart of downtown Seattle, and a HUGE crowd had gathered, largely made up of young girls and their families from the last day of summer elementary league (organized and coached by Riot women).  Needless to say, I was jumping out of my skin with excitement to be on the field with the most amazing crew of female athletes in the world.  I got to don this year's white-and-gold jersey with my old #13, filled with pride to be a performer in the buzzing stadium.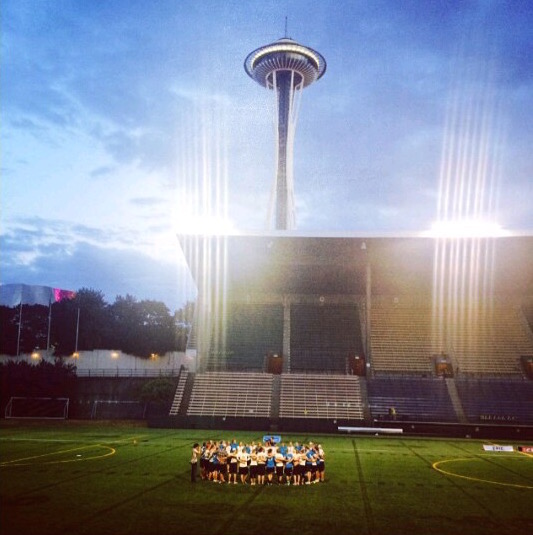 Where have I been the last 20 months?  Like many Riots before me, I was preparing for and recovering from major surgery.  Most recently, Worlds-caliber athletes Sarah Griffith, Rohre Titcomb, and Alyssa Weatherford have taken off whole seasons as they recover from knee injuries.  In this sense, Riot role models of perseverance, determination, and kick-ass work ethic lay all around me.  However, unlike these devastating sports-induced injuries, mine was a welcomed life-choice; I knew it was coming.  I did not tear my ACL nor PCL – I had a baby!!!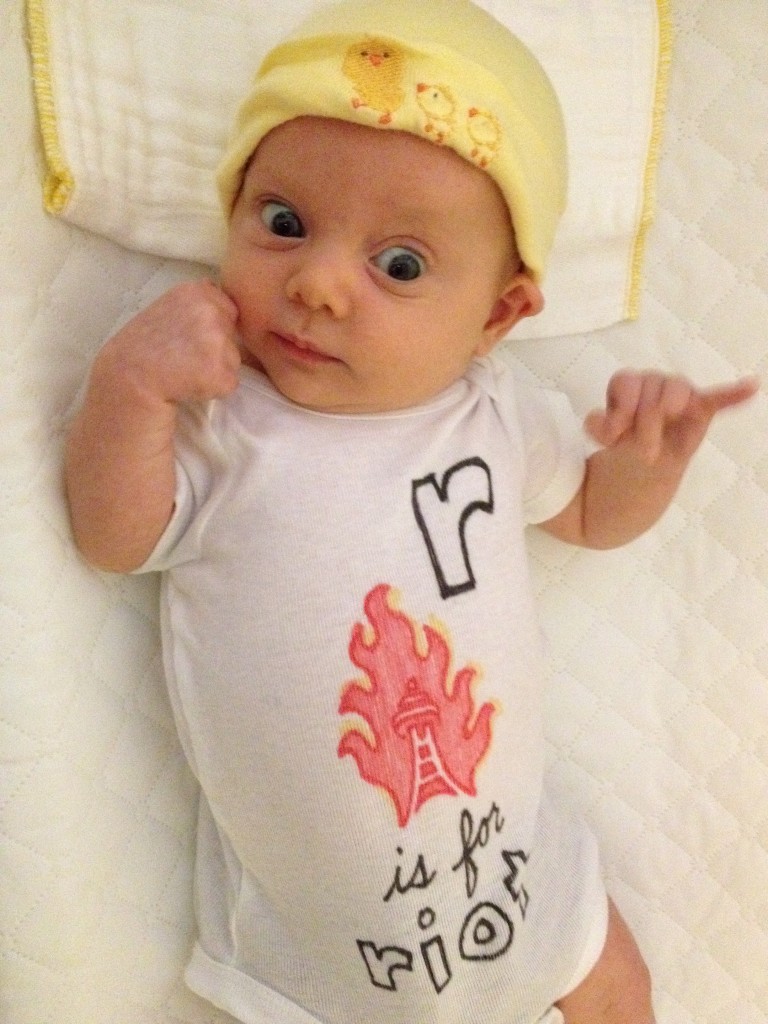 Many elite women leave the Frisbee scene once they start a family – bodies morph, priorities change, time shifts and you no longer just worry for one.  The question of returning to Riot for me was consequently a nebulous ghost filled with holes of doubt, worry and more questions.  Would I be able to get back into elite shape?  Would I want to spend time away from my little one?  Would my husband support me in this endeavor?  Would teammates accept that I had another (and possibly higher) priority other than ultimate? Would I embrace the game and its relevance in my life as before, or would it take on a different meaning?  
Obviously this story has a happy ending, but the road to suiting up for that All-Star game has been winding and long.  It has been filled with peaks and valleys, laughter and tears, sweat and breastmilk.  Ultimately, the journey has been filled with support, encouragement and acceptance from the Riot community.  
Find inspiration.
It's the beginning of August, 2014, and Riot has earned their way into the gold medal game at the World Championships in Lecco, Italy.  You bet my then 8-months-pregnant-belly that I woke up at 2:30am to watch my teammates work their way to glory.  I remember lying on top of the covers and gripping the pillow with extreme force, butterflies ripping through my body every time there was a crazy pass or feat of utter athleticism.  I was as nervous as if I were there on the sideline!  When the game was over, tears came to my eyes, for I understood, I deeply sensed, what a profound achievement had been realized: a culmination of so much expectation, hard work, and determination. They had reached the pinnacle of love, trust and excellence. Even though I wasn't with them in person, I still felt it was my team that won, that I was there in mind and soul.  I couldn't do much more than walk at a brisk pace at this point with my balloon belly, but blood surged through my veins as if I was rushing the field to share in the celebration.  I was inspired.
Trust your body.
Fast forward to the morning of August 25th, 2014, when Maisie Jo was born.  Despite our initial desire for an all-natural birth, and despite five weeks of daily exercises to turn her, our girl was in breech position and so I had a C-section.  The first month post-partum was a haze of interrupted sleep, nursing, and careful, calculated physical movement.  I tried to take it one day at a time, but it's a scary realization as an elite athlete when you find it difficult to walk to the bathroom and back without pain, let alone imagine jogging.  Ultimate seemed otherworldly at this point, and disappeared from my mind for a bit.  
One day when my husband and I were out on a walk with Maisie Jo in her stroller, he pointed to a light pole and suggested I try jogging between it and the next one.   The second and third jogging interval felt great, the fourth one I picked up the pace a bit, and by the sixth one my lower abdomen was pounding.  Damn!  By the end of our walk, I had completed 8 jogging fartleks, and I was worried I had pushed it too far.  Eventually I could do 10 without any pain, and I forced myself to honor that progress.  I laughed to think that meanwhile my Riot teammates were likely doing hour-long stair workouts or the infamous "Black Death" interval set to prepare for Nationals.  I had to remind myself that I too was pushing my body's limits, and it would tell me when it was ready for more.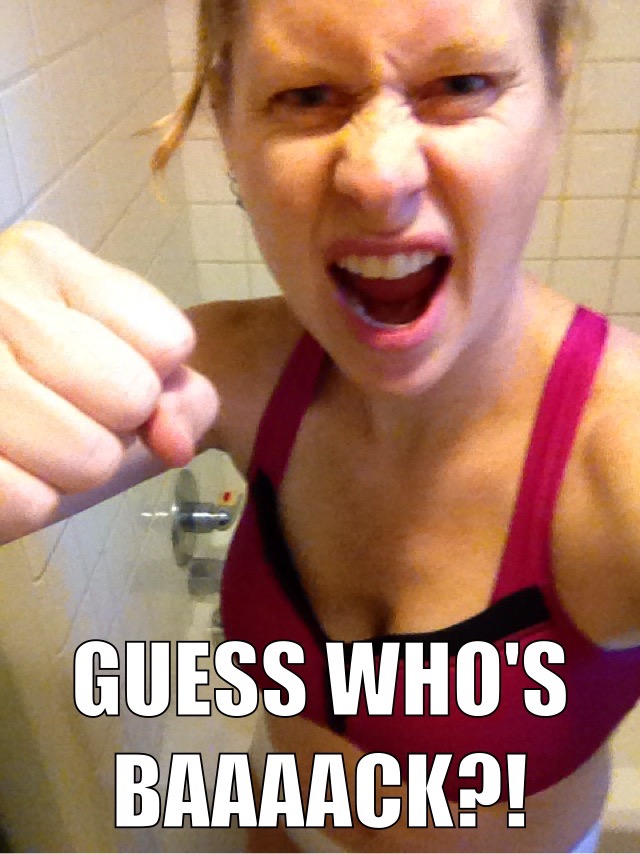 Training with Riot over the years built an awareness of my physical body that continues to grow post-partum.  More than ever, I sensed that the human body is a powerful machine.  It is organic and vulnerable, but also dynamic and responsive.  If you send your body a consistent message, it'll start to pick up on your cues.  I wanted to start running again, so I told my body through repetition that is what the plan was.  It heard me, it gave me feedback to go slow, and through my honest efforts it answered me with trust and growing strength.
Reconnect with your teammates.
I was so thrilled at my jogging intervals that I decided to share my accomplishment on the Riot GroupMe (group text messaging).  I jumped into the culture of Post Workout Selfies that blow-up the group on an hourly basis.  As I grew stronger each week, I healed smoothly and felt more like myself again, but I was still leagues away from Ultimate shape.  Jogging became the new baseline; then I slowly added some strides, plyometrics, change of direction, and strength exercises. I remember the first time I tried to do a burpee: thinking I'd go for a set of 10, at 3 I had to stop, because I feared I would tear an ab muscle!  And my lower back though!  Carrying an infant around all day, as well as crouching over 8-10times a day to breastfeed, was wrecking havoc on my lower back muscles.  How was I ever going to get through a 2 hour practice when I couldn't even complete 4 burpees?!?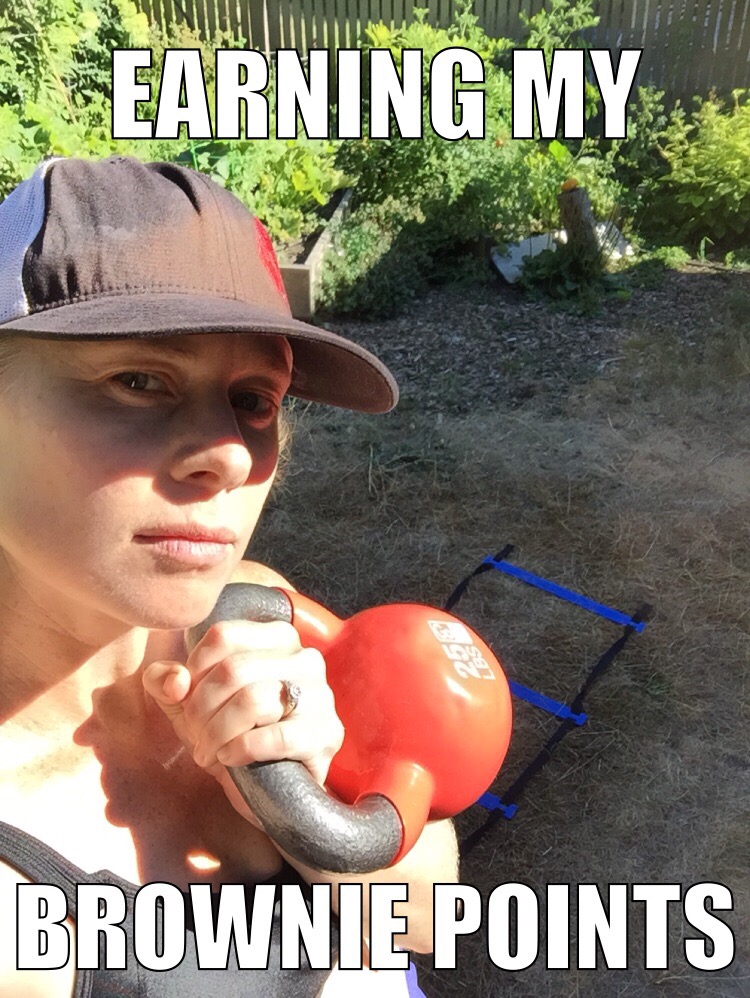 Finally when winter rolled around, there was a chance to really reconnect with Riot teammates and test my physical strength and stamina: Riot Flatball season was here! As a former high school bballer, this has been my favorite off-season gig for years.  We aren't that skilled at the game itself, but with our extreme speed, endurance and athleticism we turn a lot of heads and get a great workout!  It was my one night out a week to sweat, see friends, and take a break from my new mommy identity.  I remembered how much I like these women, and how they had been missing from my life.  
But there was still a strong magnetism pulling me back home, both mentally (I've been away from my baby girl for over 2 hours now – is she okay? Does she need her mommy?) and physically (my boobs are getting huge – it's likely time to nurse again! She needs her mommy!) 
Embrace every opportunity to play.
Later in the winter Flatball ended and I was itching to get a disc in my hands – and so were others!  Nearly half of Riot signed up for Seattle's Women's Winter League (nearly 100 women came out this 4th season) and I was stoked to participate for the first time.  I was a little bummed when I heard that my Winter League team had no other Riot players, but that meant every game I got to guard one.  I soon learned that although my quickness and endurance was not where it once was, a decade of elite training is not something that disappears in 12 months… and some games I was even hanging with Riots for several cuts at a time.  Still, when I wasn't thinking my body would remind me of its delicate past: one week on a backhand huck I pulled a left oblique muscle; another time on a layout catch my chest felt like it was going to explode…
With the advent of Spring, Riots started organizing evening mini games, goaltimate pick-up and pre-tryout track workouts.  In the beginning I would show up to these play dates with baby in hand, and my husband would meet me at the site.  I'd hand her off to him, while others tickled and cuddled with her so I could get my sweat on.  I wasn't quite sure what the reception would be as I stepped up with babe in hand to these adult scenes.  But the smiles, energy and camaraderie that greeted me each time I was out reminded me of the wholeness and goodness that defines our Ultimate community.  It felt different to be a mom out there and always deep in my mind know I had another hat to wear once I got home, but I was starting to be able to code-switch more effectively, as well as be more transparent about my new paradigm.  I could joke openly about laying out and lactating, skying for the disc and pulling an ab muscle, or throwing a turnover and blaming it on mommy-brain.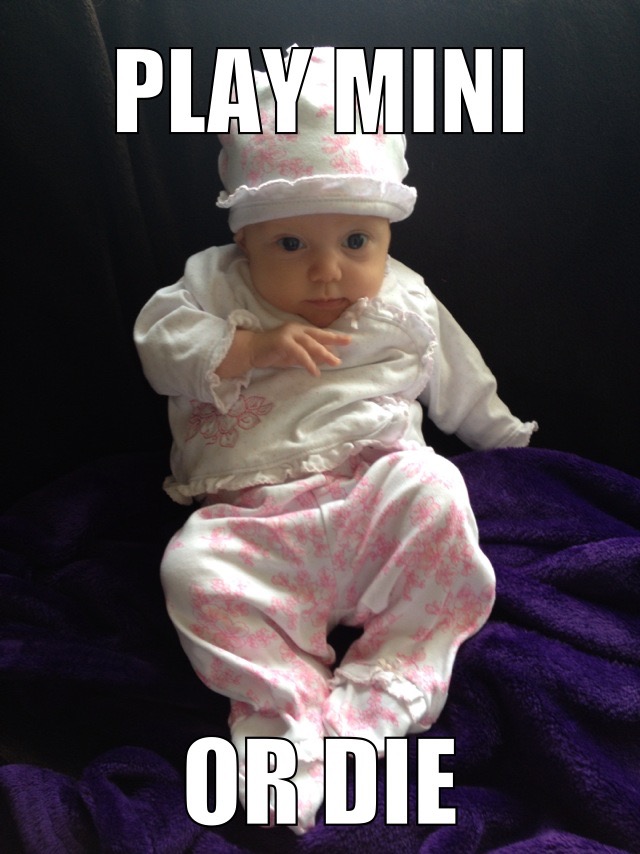 Rediscover a love of physical exertion.
As tryout season drew near, workouts took on new intensity and I grappled with the decision to try out for the team.  After much internal battling, conversations with teammates and emotional outpourings with my husband, I decided that I was going to go for it, but with a specific new flavor for Riot: I was going to tryout as a practice player.  Riot had never taken practice players before this season, and even during the tryout process they didn't know if they would; they were going to assess the tryout pool, evaluate my own performance and determine what the team needed once it was over. 
Talk about pressure!  I mean I really had nothing to lose, except my own hopes for the ideal participation-scheme on this team, but in the least I would get to practice with them for a month and see what it's like again.
I owe it to a few teammates that met me weekdays post-baby-bed-time and on weekend mornings to do pre-season track workouts and throw.  Without these teammates – accountability partners, motivators and just plain sweet human beings – I would never have been able to redefine myself as a Riot-caliber athlete.  While not being able to physically push myself for a year, it was kind of a thrill to get back onto the track and turf and rediscover those limits.  Track Dread returned with full-force, but this time I always had a greater purpose to guide me through moments of pain: "This one is for Maisie Jo!"  Sometimes I had to remind myself that no matter what happened on the track, I was still an awesome mom – that I should applaud myself for even coming out that night.  The mind games that you play with yourself as an elite athlete in training, I'll tell you: they remain constant and creative, even after baby 🙂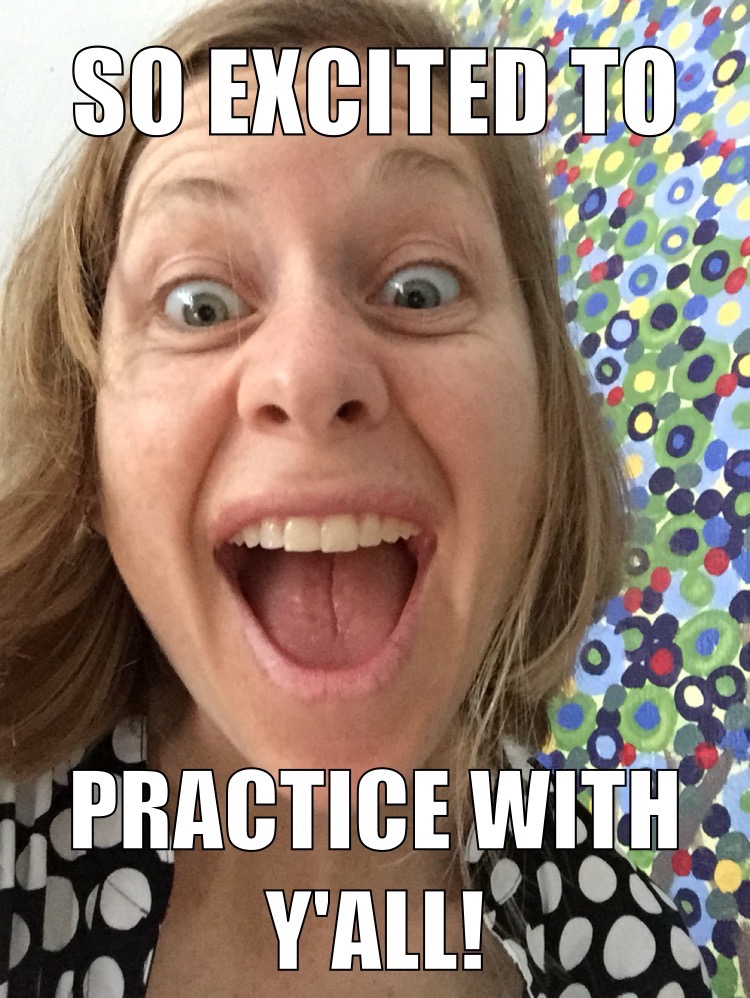 Readjust your expectations.
Playing ultimate while raising a child forces you to really evaluate your priorities on any given night, and perhaps most importantly, to order them logically.  Monday nights I would love to attend team-organized RiFit, but that is my husband's basketball night, and if I'm going to attend practice on Tuesdays and Thursdays, he gets at least one night a week to get his game on.  But house arrest doesn't mean that after putting Maisie Jo to bed I can't do my own agility/jump rope/kettle bell workout in the backyard!  Similarly, I may not be able to come early to or stay late after practice to throw with teammates because I have to make sure I nurse MJ right before take off and pump the second I get in the door.  But on these long summer nights I can easily get a half hour throw in the street with my husband after all mothering duties are finished.  As the season draws on, MJ matures and her dad becomes a bedtime master, I've actually been able to go out for a drink post-practice and savor my teammates as real people, not just athletic robots.  Ultimate life – and elite ultimate at that – doesn't terminate with a baby, it just gets a bit more complex.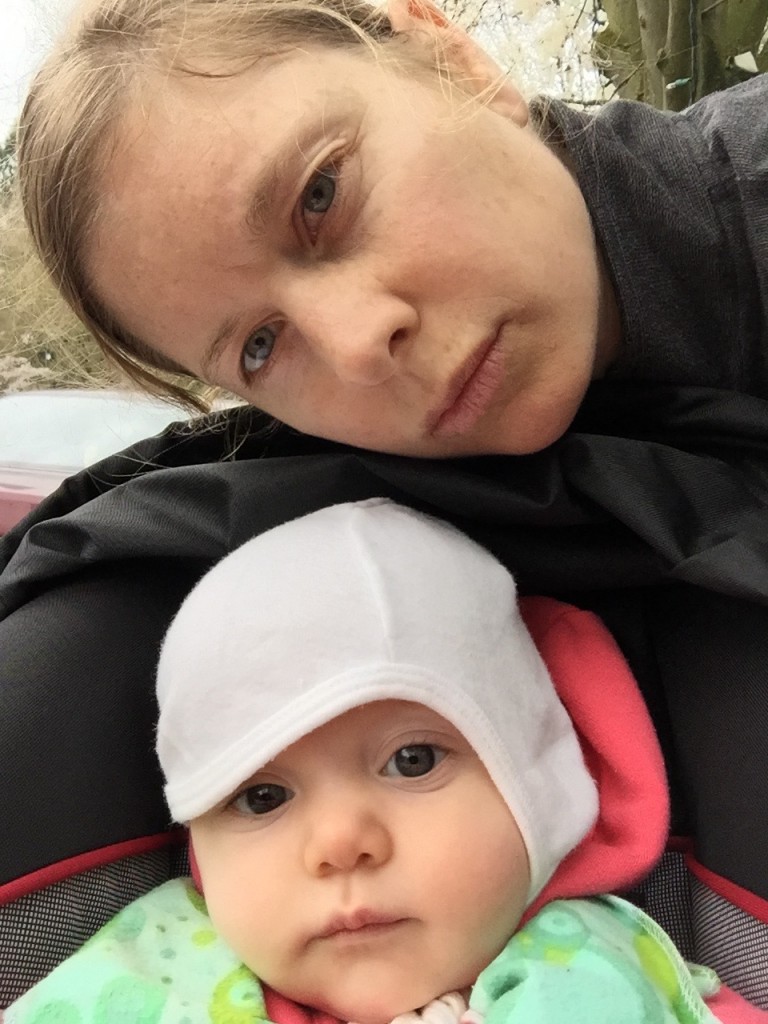 Ride the wave.  Love the wave.
So here I am: a practice player.  Grinding it out on the grass and turf, buying into the team mentality, embracing the team values, building connections with teammates, and finding joy in the opportunity to share this experience with such powerful, talented and motivated women.  I'm riding the Riot wave, pushing myself so that I can push my teammates to become better athletes, better strategists, better communicators. Iverson would think I'm batshit crazy to subject myself to all practice, only practice, and not a game, not a game, never a game!  There is no other team sport that I could imagine being so welcoming to a parent-athlete.  There is no other team that I would do this for. And on a Sunday morning when my husband comes rolling up to the practice field with my little girl in the stroller, there is no other place in the world I'd rather be.
– Heidi Marie Wiggins, #13