A Captain
What's in a captain? The rookie did ask,
Hard work, commitment, rising to the task?
Fire, soft paws, and an even-keeled mask?
Or
Really impressive calf muscles.
Must she recite team plays in her sleep?
Move the disc laterally, and also throw deep?
Know how to listen, without making a peep?
Or
Rock the party with a unibrow.
Does it take
Heart, emotion, and pump-up talks?
A headband, patagucci, and some tall black socks?
A swagger, a strut, a play-style that shocks?
Or
Reminding the team not to buy too much hummus.
The brains and brawn, she's gotta do it all!
Know all the rules, and every play call.
Warmup like a champ, and never get stalled.
Or perhaps
She helps a teammate out of a place.
Oh, what's in a captain, please give me the tour!
Don't leave out the details, do tell, I implore!
Must she get tons of Ds, break marks, and then score?
Or,
Is it something more?
You tell me.
Shira Stern – #10
---
Riot is thrilled to announce the three captains who will be at the helm for the 2015 season:
Hana Kawai, Alyssa Weatherford, and Kate "KK" Kingery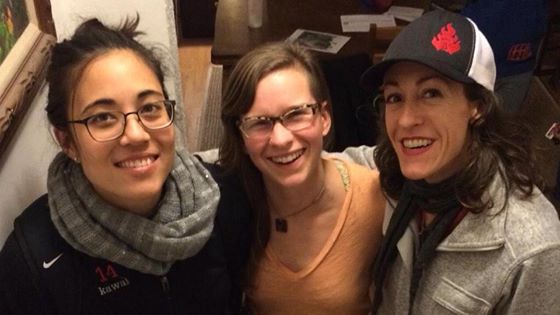 Kawai (#14) is new to the Riot captainship, but not a rookie to the LC nor to leadership in general. Many of Riot's internal systems were developed with Kawai's help – from proposal-generating meetings to reworking our strategy committee into a leadership committee. She also helped come up with the concept for Riot's micro-communities, small groups within the team for support, feedback, and reflection that have become an integral part of the team's structure. Another dedicated coach, Kawai has been a key driver of the AGE UP program that uses ultimate as a tool for social justice in Seattle. Kawai loves process, consensus, and surfing the wave. And we love Kawai.
Alyssa (#25) was one the team's three captains last year that helped lead Riot to a world championship. Even before last season, Lys had been tapped by Riot for her strategic contributions as a member of the leadership committee (LC). Lys is a creative strategist who excels at both seeing the big picture and focusing in on micro-adjustments, skills she has used to great success as a coach of Western Washington and Seattle Academy, among her many local coaching gigs. Riot is lucky to have Lys back for another year of giving so much of herself to the team and the sport. She has really out-grown her initial "weenie" label from years ago!
KK (#5) is another familiar face in Riot's leadership as a team captain in 2012 and LC member in 2013. A veteran club player and experienced coach, KK brings a ton of expertise to the leadership team. Her analytic mind is always assessing team strategy, searching for tweaks to improve drills, plays, and systems — whether for Riot, the Bush School, or international clinics. KK's organizational skills are already fire-tested as she's coordinated large international coaching tours and served as a tournament director for the Emerald City Classic. KK is always ready to provide a spark to the team, and we can't wait to have her leading us in the huddle and dance floor.